Home Renting Guide
Is your ideal Colorado home a rental? Whether you're seeking a rental property you can call home for an extended period or you're a short-term renter, you can find the home that fits your lifestyle.
There is a lot to love about renting and you can reap many benefits if you choose to rent rather than buy.
Colorado Home Renting Tips
Rent vs. Buy Calculator
When choosing to rent or buy, an important first step is gaining a thorough understanding of your finances so you can determine which option will bring you more benefits.
Explore Communities
From location to walkability, choosing the community you want to call home is important when searching for rental homes.
Colorado Cities, Towns, and Neighborhoods
In many ways, choosing the community you'll call home is just important as picking the place you'll call home. From mountain towns, to beautiful suburbs, and city centers, Colorado offers a place to live that is sure to fit your lifestyle. Make a list of the characteristics of your ideal community then explore highlights from each area including demographics, school data, culture and entertainment, and walkability along with current listings for sale and rent.
Popular Places to Live in Colorado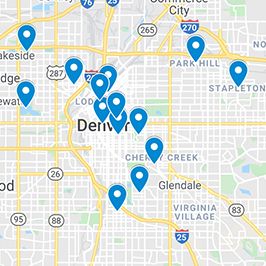 Central Denver Neighborhoods
South Central Colorado Cities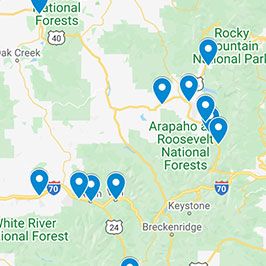 Colorado Mountain Cities
What to Look for in a Rental Home
Finding a home to rent in Colorado doesn't have to be tricky! Put together your list of must-haves and then consider the points below as you browse rental listings.
Explore Communities
We may be biased, but we believe Colorado has some of the most beautiful neighborhoods and communities in the country! Get to know them all or search for a specific community you'd like to learn more about! In addition to seeing the available listings in the area, when you explore a community you will find information regarding local amenities, entertainment and nightlife, parks and outdoor activities, restaurants, schools and more!
Walkability
Many communities offer the added benefit of walkability, or proximity to local amenities, including schools, shopping, restaurants, recreation, and public transit options. Walkability offers a number of personal benefits and can even help the environment. Calculate the walkability of the homes you're considering by completing the Walk Score search field that is included with each listing.
Amenities
One of the benefits of renting can be the amenities that are included in the cost of rent. These can include property or unit-specific upgrades like high-speed internet, walk-in closets, a washer and dryer, or a private patio. Community amenities may include private parking, a pool or fitness center, security features, or recycling. Keep your list of must-haves handy as you discuss the list of amenities that are included with the property.
Maintenance
A great aspect of living in a rental home is the likelihood that some or all of the maintenance, along with the expenses will be the landlord or superintendent's responsibility, not yours.
From snow removal and lawn care to appliance repairs, make certain you are clear on which aspects of maintaining the property will fall to you before signing a lease.
Talk to an Agent
A real estate who is an expert in rental properties can help you find the rental home in Colorado that is right for you whether you need a furnished apartments or short-term lease, or a single-family home. In addition, having access to the details for the available listings, they will look out for your best interest while guiding you through the rental process.