Home Buying Guide
Whether you're a first-time homebuyer or a real estate veteran, purchasing a new home includes various steps, tasks, and requirements. Plus, purchasing real estate is a significant financial investment.
There are many important things to consider as you start your Colorado home search. From finding accurate information about homes for sale to evaluating communities and connecting with an experienced real estate agent, know the right steps to take to simplify the home buying process. Armed with the right information, you can find and purchase your next home with confidence.
4 Steps for Buying a Home in Colorado
Define My Budget
Choosing the
Right Agent
Get Local Insights
Look For Homes
One of the first steps in the homebuying process is to fully understand your finances. It may not be as fun as looking at homes, but it is necessary to help you determine how much you can afford.
For most, buying a home is a big financial milestone. Assessing your finances so you know how much you can comfortably afford can be tricky. There are many factors to take into consideration. At a high level, what are your long-term goals and how does home ownership fit in with those goals? More specifically, consider what should be your target purchase price and what additional expenses, like loan establishment fees, mortgage insurance, HOA fees, moving costs, and initial renovations, should be included in your plan.

Mortgage Resource Center
Affordability Calculator
To determine how much house you can afford, start by understanding how a mortgage will impact your budget. To find home prices that fit within your budget, enter your income, expenses, and down payment into the Affordability Calculator.
Buying a home is no small task. Professional real estate agents have the tools, resources, and expertise to help you navigate the home-buying process from start to finish.
A professional and experienced real estate agent will be your expert advisor. They will start by helping you evaluate your wants and needs as well as your buying power. Using resources they have at their fingertips, they can give you information about neighborhoods and communities including local market statistics. They will help you view homes, serve as an objective advisor in the selection process, and then negotiate the best deal for you. Good real estate agents are worth their weight in gold.

You can connect with an agent on REcolorado.com and always have convenient access to their contact information as you browse property listings. So when you find the home that checks all your boxes you can contact your local real estate expert fast!
Discover Colorado cities and get to
know neighborhoods before you buy.
A great community not only helps you enjoy your home, it also helps your home hold value and makes it easier to sell your home when you're ready for a change. No matter which part of Colorado interests you, it's important to get to know the neighborhood before you buy. Narrow your home search by learning about Colorado cities and towns to discover areas that suit you. As you're considering the community that fits your lifestyle, you can use built-in tools like commute time to calculate your drive to and from the office or school. You can also learn about local amenities, restaurants, shopping, transit, and calculate your Walk Score to identify walk or bike-friendly areas.
Popular Places to Live in Colorado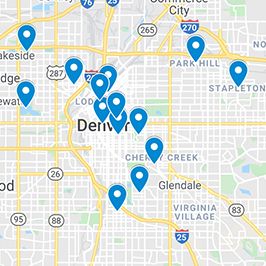 Central Denver Neighborhoods
South Central Colorado Cities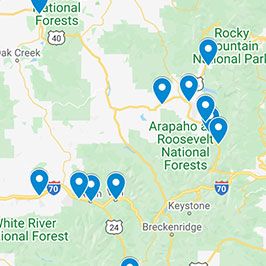 Colorado Mountain Cities
Find the Home That Fits You
Choosing the place you'll call home involves more than having the right number of bedrooms and bathrooms. When you choose to buy a home, you're making a long-term commitment. It is helpful to start by setting a budget and putting together a list of "must haves" and "nice to haves." From there, you can determine the city or neighborhood where you'd like to live. In addition to location and commute time, consider schools, amenities, restaurants, and services.
Visit the REcolorado Home Blog